Total Ink Solutions – UMX Mixing System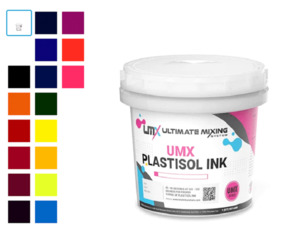 SKU UMX-812-PT
Colors Available: UMX Mixing White, UMX Mixing Black, Orange, Red, Burgundy, Dark Magenta, Dark Violet, Dark Blue, Marine Blue, Blue, Dark Green, Yellow, Bright Gold, Ultimate Yellow, Ultimate Blue, Ultimate Purple, Ultimate Red, Ultimate Pink
This is the most versatile and up to date mixing system to date. Total Ink Solutions has invested incredible resources into developing the most accurate and cost-effective way for any shop whether they are small or large to offer custom matched colors, as well as shop created custom colors specific to a client.
This new ink mixing system and software developed by Total Ink Solutions provides the most accurate way to mix your custom and industry standard colors for popular color matches.
** These inks are designed for 100% cotton, and are not opaque. The UMX system must be printed on an underbase for dark colors, and if you need bleed resistance you must use the BR series ink as an underbase to achieve this.
All users of this system will have FREE access to the software and mobile apps we have developed over at http://umxsystem.com/
Details: This ink is designed for spot color prints. When printing on dark colored garments it is best to use a white underbase so the colors are represented accurately. Without a white underbase colors may appear darker due to the garment color. White and other light color garments can be applied directly without the need of a white underbase.
Curing Instructions: Flash at 230°F for 4 – 7 seconds and cure at 320°F for 30 – 45 seconds.
Clean Up: Ink degradant or press wash.
Storage Information: Store the product in a temperature-controlled room, and keep out of direct sunlight or high temperatures. Store in an area that is at room temperature for best storage.